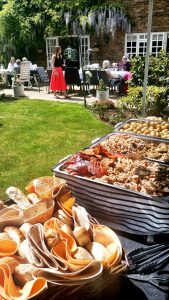 We would like to thank you for taking the time to browse our service and learn a little more about what we do here at Hog Roast Weston Super Mare. Our customers always come first, and without you, we wouldn't be here – we really do appreciate your continued support.
Our staff are specially chosen for their passion for hog roast catering and for their personable qualities – all of which comes together in creating superb value for money for our customers.
We bring more than a decade of experience to the hog roast catering arena, meaning that when you choose Hog Roast Weston Super Mare, you benefit from our in-depth experience of how to put on a hog roast catering show that will impress your guests throughout the day.
Hog Roast Weston Super Mare – Types of Events
We have found that a huge part of the fun of working with all of our clients over our many years of dedicated service is that we get to share in the enjoyment of your day – from garden parties for birthdays and graduations to wedding celebrations, retirements, and larger scale charity events or business functions, we've seen it all. No matter the reason for your gathering of hungry guests, Hog Roast Weston Super Mare is proud to provide the tasty and aromatic meal time party catering service that will keep all involved coming back for more.
Weddings (large or small) – Our experienced team of hog roast chefs will work with you in deciding the most important part of your big day – the menu! Contact us about delicious bespoke options.
Private Garden Parties – You may be celebrating a new addition to the family, an engagement, a retirement, or just about any other type of joyful event – let us provide the mouth-watering catering.
Corporate/Charity Events – We'll help you to bring everybody together over the shared joy of a succulent and aromatic hog roast at your next organised charity event or corporate team building day.
Indoor and Outdoor Catering
We are often asked whether we provide indoor catering as well as the classic outdoor hog roast setup. The answer is that we can set up one of our eye-catching stainless-steel hog roast machines in both indoor and outdoor venues. Whether you only have a small corner of a dining hall in which we can set up a roasting machine and serving table, or whether you're planning on playing host to a field of hungry revellers, we can provide the indoor or outdoor hog roast setup to provide your guests with the most flavourful hog roast meal available anywhere.
Hog Roast Machine Hire Options – Weston Super Mare
If you would relish the opportunity to become a hog roast chef for the day, we can help. Speak to us today about our hog roast machine hire options. We'll provide the roasting machine (and tutorial), the ingredients, spare gas canisters, gazebos, serving tables – everything you need to see your day through. We'll even pick everything up once you're finished.